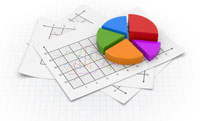 Customized price tags and labels are easily printed with Furniture Wizard. All tags contain a barcode and where appropriate, your store's logo is also included. Multiple item or group tags as well as mattress tags are also instantly printed.
Furniture Wizard contains awesome reports! There are hundreds to choose from and they're all easy to read! With password security, you control who has access to this information. Plus, now you can ask more complex questions like:
Who purchased over $2,000 during the last 6 months?
What's in stock now that hasn't sold so far this year?
What do I need to order?
What's getting delivered today?
If you have a customer who walks in requesting specific items, you can easily and quickly print out a catalog with photos of your inventory! You can instantly send statements or print an aging report, send out thank you letters or even print mailing labels!